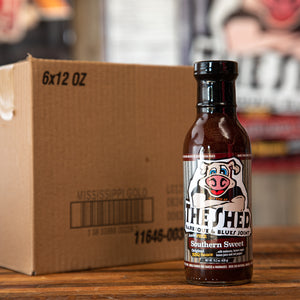 Who wants just one bottle of ShedSpred BBQ sauce? No one! It's just like a potato chip - you can't have just one. That's why we offer our sauce in cases - buy five bottles and get one free!
At The Shed, we understand the importance of having plenty of BBQ sauce on hand. That's why we offer our Original Southern Sweet ShedSpred in cases. With this offer, you'll always have a bottle of sauce ready to go for your next BBQ.
Our sweet tomato-based sauce is loaded with brown sugar, molasses, lemon juice, and a hint of red pepper, giving it the perfect balance of flavors. Whether you're grilling pork, ribs, chicken, beef, or even fries, eggs, and chicken nuggets, our Southern Sweet ShedSpred is the perfect finishing touch.
So why settle for just one bottle of BBQ sauce when you can have a case of The Shed's Original Southern Sweet ShedSpred? Take advantage of our buy five, get one free offer today and stock up on the best BBQ sauce around!
What's in the Box?
6 bottles, Original Southern Sweet ShedSpred BBQ Sauce 
CONTACT US for BULK AND WHOLESALE
Product Information
NET WT.15.2 OZ (430g)
GLUTEN-FREE INGREDIENTS: Brown sugar, water, tomato paste, molasses, vinegar, salt, garlic powder, spices, onion powder, hot sauce (Red Peppers, Vinegar Salt), Citric Acid, Mustard, Lemon Juice Concentrate, Natural Smoke Flavor, Turmeric, Spice Extractives, Carrot Powder
What's not in the Box
Gluten, MSG, HFCS